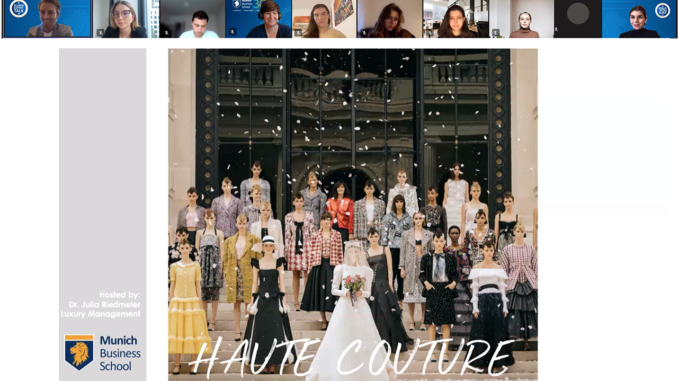 At this year's Luxury Business Dialogue, Maxime Scheuer, Client Experience Project Manager CHANEL Haute Couture and MBS alumnus, provided insights into the iconic Parisian luxury house CHANEL Haute Couture. Martina Dengler, Alumni Relations Manager, initiated the contact. Together with Dr. Julia Riedmeier, module leader of the master's focus Luxury Management and also MBS alumna, they invited students from all MBS programs as well as the wider MBS community to this digital evening event.
---
The evening was dedicated to Inside CHANEL: A look into the mystical world of Haute Couture where Maxime Scheuer took the 100 interested people on a luxury journey and addressed questions such as: What is haute couture compared to prêt-à-porter? What is the relevance of haute couture today? What do discerning customers expect in terms of service quality or sustainability?
The exclusive evening events are a special highlight for the Master International Business students with a concentration in Luxury Management, where they can not only deepen their knowledge but also network with luxury professionals. CHANEL has a unique history and aura and brings this into the here and now, as Kenza Kareche, master's student confirms: "This Chanel talk allowed me to get better insights into the heart of one of the most successful Maison of Haute Couture. During the presentation, Maxime Scheuer really succeeded in bringing the magical aspect of such a Maison to life."
"It was a great pleasure to give the 100 participants a closer look into the Haute Couture universe as well as to share insights from CHANEL. The exchange between students, lecturers and professionals has always been something very important for me, as it gives a direct insight into the company. In particular, I would like to thank Dr. Julia Riedmeier and Martina Dengler for the wonderful cooperation and the students for their great interest and numerous questions," says Maxime Scheuer.
It was also a successful evening event for Martina Dengler: "Bringing alumni back to the MBS (online) campus is always a great pleasure for me. On the one hand, it becomes very special when such a glamorous company as CHANEL Haute Couture is involved, whose elegance and exceptional craftsmanship impressed me very much. On the other hand, the evening was very special for me, as our lecturer for luxury management Dr. Julia Riedmeier is also an alumna. An absolutely perfect evening from an Alumni Relations point of view!"
Maxime Scheuer inspired the young Generation Z with CHANEL's philosophy and innovative approaches to not only tailor the haute couture house's creations to its exclusive customers, but especially to create a more transparent and personalized service experience through digitalization. "Many thanks to Maxime for the intriguing insights into the codes of CHANEL Haute Couture, the creation process and the interpretation of exclusivity for UHNWIs (Ultra High-Net-Worth-Individuals). Great that there are luxury professionals like Maxime!", concludes Dr. Julia Riedmeier.
The Luxury Business Dialogue is a lecture series organized by MBS lecturer for luxury management Julia Riedmeier. Selected luxury professionals share their knowledge and experience on a specific topic with MBS students as part of the Luxury Management concentration in the International Business master's program.
The author is responsible for the content and form of this article.
---


After completing your bachelor's degree, you would like to delve even deeper into the processes of international business administration and specialize in a particular area, such as finance, marketing, or sports business?
Then you will find a broad selection of business master's programs with different focuses at Munich Business School. In all programs, you'll benefit from small classes, lecturers from the business world, and outcome-focussed learning that makes it easy to start your career. See for yourself:

Master's in International Business
Master's in International Business I Finance
Master's in Innovation and Entrepreneurship
Master's in International Marketing and Brand Management
Master's in Sports Business and Communication