MBS ONLINE EXPLORER WEEK – WELCOME TO OUR OPEN DAYS
From March 14 - 19, 2022, you will have the opportunity to discover Munich Business School and its exciting offerings - from the bachelor's and master's programs to the MBA and DBA - during the MBS Online Explorer Week. With the Explorer Week, we present the entire diversity of our university to you: Meet our professors live, ask your questions about teaching and get an insight into the study contents, furthermore chat with current MBS students and find out first-hand everything about student life at MBS and in Munich. Last but not least, get to know our employees who will actively support you in your journey at MBS - be it with application questions, the planning of your semester abroad or when it comes to settling down as an international student in Munich. A varied program of online Info Sessions, Q&A Sessions and trial lectures awaits you. We are looking forward to seeing you!

MBS Explorer Week
Schedule
Get to know the MBS Spirit! What makes MBS special for you? Lecturers and employees answer
Event Days
Bachelor's Open Days
March 14 + 18
March 14 and 18, 2022 are our Bachelor's Open Days, where prospective students can find out everything they need to know about the International Business bachelor's program at Munich Business School. At the Bachelor's Open Day in English on March 14, the academic directors and current bachelor's students will introduce the program and themselves to you in an info session, and the International Center will present options for the semester abroad as well as support options for international students in two sessions. Parents of prospective students can also expect a separate info session that explicitly addresses the questions and concerns of parents.
At the Bachelor's Open Day in German on March 19, there will be another info and Q&A session with academic directors and current students, as well as an introduction to the pre-bachelor program, where we will present five good reasons for this preparatory program.
MBS is the only university in Germany that specifically prepares students for a DBA program at an AACSB-accredited university - namely the DBA program at Sheffield Hallam University. In our info session during the MBS Online Explorer Week you will get an overview of the program structure as well as the opportunity to talk to the academic director and current DBA candidates and ask your individual questions.
Master's Open Day
March 16
There are four master's programs at Munich Business School - the Master International Business, the Master Innovation and Entrepreneurship, the Master International Marketing and Brand Management and the Master Sports Business and Communication. Each program will have its own info session during our MBS Online Explorer Week. Here, you will get an overview of the program structure and can ask current master's students, academic directors, and our master program advisor your individual questions about student life, the study contents, or the application process.
Our MBA Day on March 17 is divided into two parts. The afternoon is reserved for those interested in the full-time MBA program General Management. During an info and Q&A Session with the academic director and current MBA students as well as a trial lecture you will get a solid insight into the program. In addition, we will clarify all questions regarding a successful application and the International Center of Munich Business School will inform about support possibilities for applicants from abroad.
The evening is aimed at those interested in completing the MBA General Management part-time. Here, too, you can expect an info and Q&A session, a trial lecture, and a special on how to apply.
MBS Open Days: MBA Full-time −Info Sessions, Q&As and Trial Lecture
Join us on March 17 from 1 pm…
Learn more
MBS Open Days: MBA Part-time − Info Sessions, Q&As and Trial Lecture
Join us on March 17 from 6 pm…
Learn more
Our Campus - small, but fine!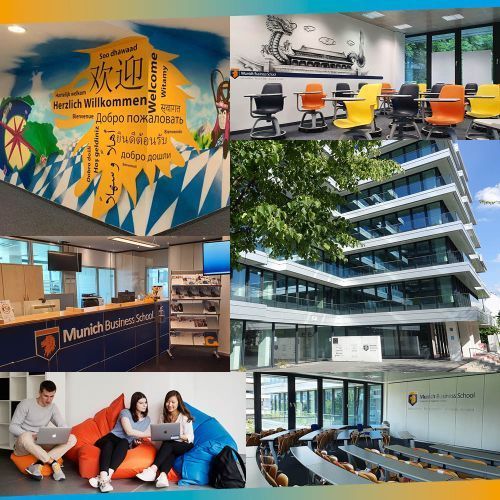 Munich Business School is located in the west of Munich, at Elsenheimerstrasse 61. Thanks to the good public transport connections, our campus can be reached quickly and easily from all directions.
Short distances characterize the daily study routine at MBS. Since the university only has one campus, you will quickly get in touch with your fellow students and the way to the MBS professors and staff is not far either. Often, the offices are located right next to your lecture hall! We appreciate the personal exchange among each other and the small but nice MBS campus gives you and us the perfect opportunity to do so!
On four floors you will not only find innovative seminar rooms, but also study rooms for individual learning, a computer lab, a library, a study center for working together or having lunch, an MBS lounge for bigger events, and a cozy garden where you can recharge your batteries between lectures in the summer.
Our Values
For 30 years, Munich Business School, a state-recognized German Council of Science and Humanities-accredited private university for business, has been educating cosmopolitan and entrepreneurial personalities to become responsible leaders of tomorrow. In doing so, it always follows its three core values: