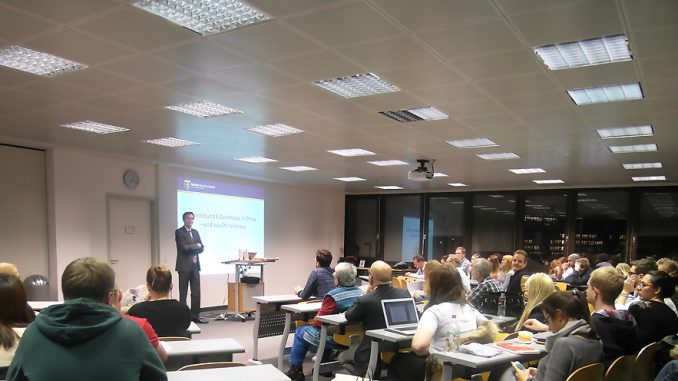 As part of the 14. Munich Science Days (Münchner Wissenschaftstage) under the motto "Digital Worlds" Prof. Dr. Christian Schmidkonz held a presentation on "Internet and e-commerce in China" at Munich Business School.
The Academic Director of the Master International Business program started with an introduction of the "Single's Day" in China which is celebrated on November 11 each year. It is an occasion for all singles in China to treat themselves to something nice and has, in the meantime, become the biggest online shopping day of the world. It isn't exactly new that China is a huge e-commerce market. During his presentation, however, Prof.Schmidkonz explained how the Internet works and is used in China, presenting numerous and comprehensive examples.
Not only the country, but also the Chinese Internet is enormously huge. With roughly 640 million accounts, it has the largest number of users, with numbers increasing.  More and more, the Chinese access the Internet via mobile devices such as smartphones and tablets. But they do not have unlimited access: The government is very active with its so-called "Smart Censorship" and is additionally calling on the public to excercise self-censorship. This censorship is probably most noticeable in the social media channels. First of all, neither Facebook nor Twitter are allowed in China, being substituted by Sina Weibo, the largest Chinese microblogging service. In addition, specific words are blocked and contents are monitored. "Nevertheless, the Chinese know how to handle these conditions and how to use and control the Internet very well," says Prof. Schmidkonz.
In the second part of his talk, he presented astonishing facts and figures about the Chinese e-commerce. In 2013, electronic trading in China exceeded turnovers of the United States. This makes China the largest e-commerce market in the world. Today, 6.3 percent of all purchases in this country are done via Internet. In Germany, it is only 5 percent. You can even buy cars via online shopping malls.
Prof. Christian Schmidkonz closed his remarks and insights into the Chinese Internet by portraying some Western companies, who designed web portals or apps for Chinese consumers and whose activities had been successful. The event was concluded with a lively Q & A session with the audience, during which many questions were asked and various topics discussed.