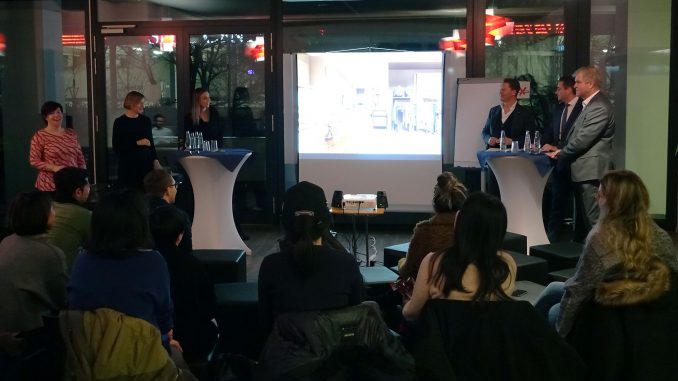 This past Thursday, the MBS Lounge was the venue for the "How to Make a Brand Unique" panel discussion, which featured Matthias Mey, Managing Partner of Mey, Sabrina Eberl, CRM & CS Manager at Cartier, Master International Business alumna Maria Vittoria Fondriest, Client and Service Marketing Trainee at Cartier, and Lorenz Zelger, Bachelor International Business alumnus and Head of Shopper Marketing at Loacker.
The experts of the "How to Make a Brand Unique" panel discussion: Sabrina Eberl and Maria Vittoria Fondriest (Cartier, left picture), Matthias Mey (Mey), Lorenz Zelger (Loacker), and MBS Professor Dr. Hans H. Jung.
The guests were welcomed by Dr. Hans H. Jung, Professor for International Marketing, the host of the event. Then, the experts took the stage to each provide insights into their companies and how they manage their brands.
Up-to-date marketing questions were at the core of the discussion – and the answers of the panelists reflected a broad spectrum of up-to-date solutions. In particular, the question "How digital must a brand be today and tomorrow?" created a stage to discuss numerous practical applications ranging from trend recognition via social media listening to the brand-adequate design of a "Point of Customer Experience".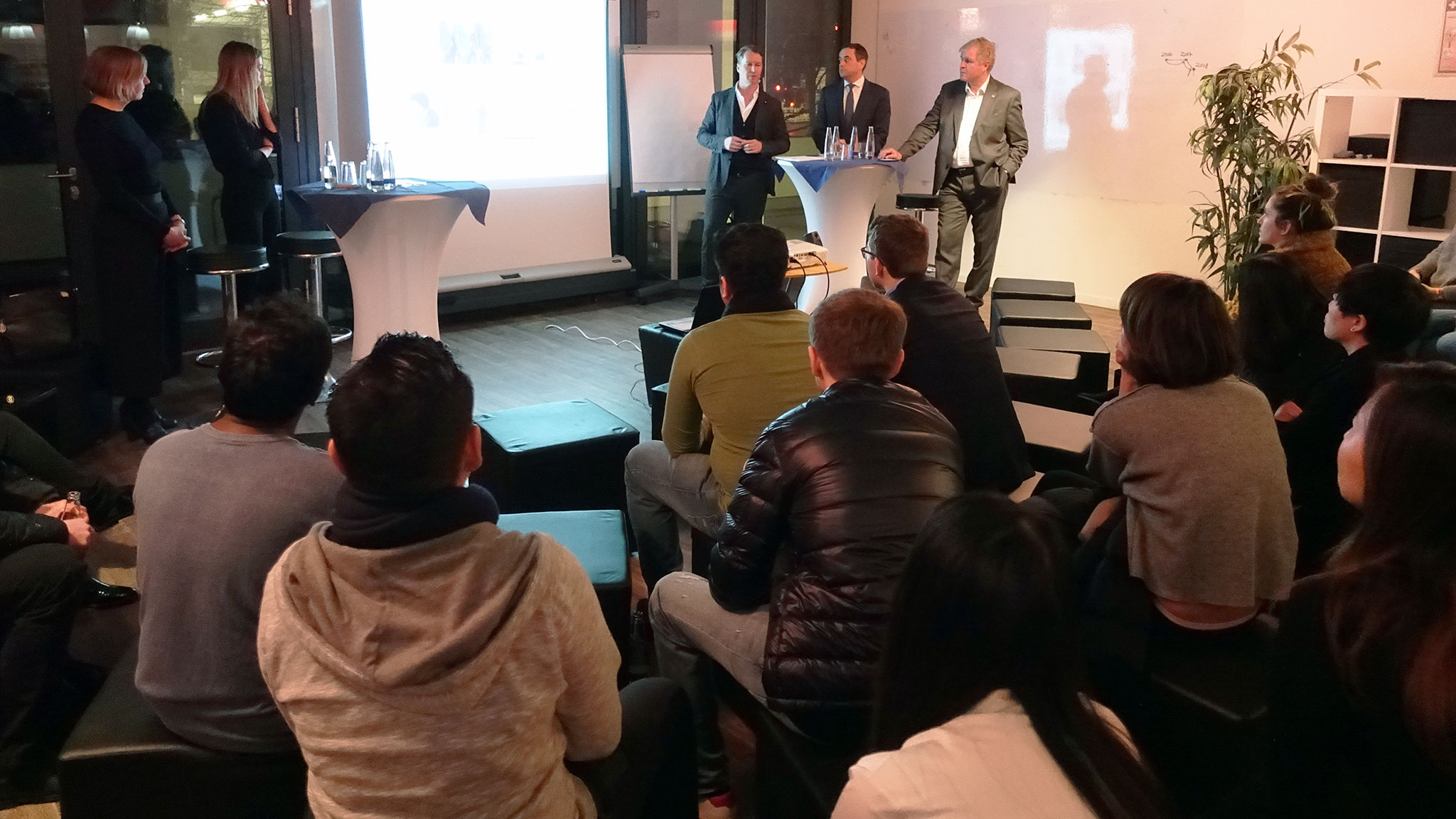 The answers the question about "the senses a consumer uses to perceive a brand" involved many facets – from the olfactory and haptic experience of a fashion brand (Mey) to the taste experience of a brand-owned bakery shop (Loacker) up to the holistic experience of luxury brands (Cartier). Many questions of the audience were related to international aspects of brands, the future role of marketing in a company, as well as the online search experience of the so-called "Generation Z".
After the panel discussion, the event continued with a lively discussion that also involved the audience before the evening came to a close with a cozy get together.
We would like to thank Maria Vittoria Fondriest, Sabrina Eberl, Matthias Mey, and Lorenz Zelger (special thanks for bringing your delicious Loacker sweets!) for sharing their expert insights with our students, and for making the "How to Make a Brand Unique" event a memorable one!