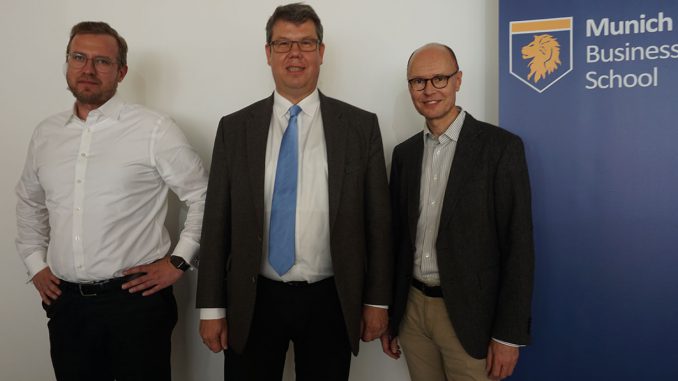 Im Rahmen der Vorlesung Personalmanagement und Leadership lud MBS Professor Dr. Arnd Albrecht AUDI's Top-Recruiter James W. Garrett Head of Recruiting and Talent Acqusition und Jan Terstiege, Recruiting Antriebskonzepte/Produktion an die MBS ein. Sie berichteten von der Recruiting-Strategie, die AUDI als globaler Konzern hinsichtlich der Mitarbeitergewinnung und -bindung verfolgt. Dabei stellten sie Ihre Erfahrungen und Real-Life Taktiken vor. Im Anschluss stellten die Studierenden kritische Fragen, die das Duo authentisch, ehrlich und überzeugend beantwortete.
Über zwei Stunden folgten alle Studierenden gebannt den interessanten Herausforderungen, denen sich Audi, als internationales Unternehmen stellen muss. Am Ende hatten die Studierenden die Möglichkeit sich mit den Vertretern von AUDI über Karrieremöglichkeiten auszutauschen.
Ein herzliches Dankeschön an James W. Garrett und Jan Terstiege für Ihren Besuch bei MBS und für Ihre aufschlussreiche Präsentation.