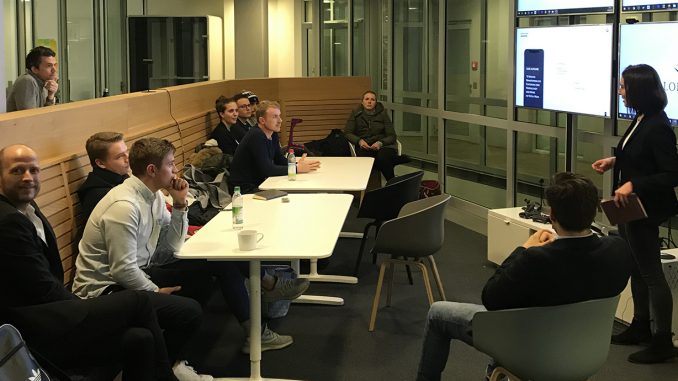 Students from the Master's program Sports Business and Communication and the Bachelor's with a specialization in sport management were given the opportunity to visit one an interesting consulting company on the afternoon of February 12. SBC student Jakob von der Wense reports on the workshop at Lobeco.
The Lobeco GmbH was already known to many of the participating students due to the fact that some MBS graduates are now working at Lobeco and the number of the customers from the sports industry the company is serving.
Lorenz Beringer, founder and CEO, gave the students a brief overview of the founding history and principles of the company at the beginning of the event. After several years as head of the social media department at FC Bayern Munich, Beringer wanted to try his luck as a founder. He recognized that many companies in the sports sector, but also in industry and politics, do not recognize and exploit the potential of social media. That is why Beringer started the consultation of companies planning to expand their engagement from his own kitchen. Nowadays, Lobeco has a number of long-term partnerships with industry leaders and local companies. In addition, the company expanded its locations to Zurich and Shanghai.
Insights into the social media marketing of (sports) companies
After the highly interesting introduction of the managing director, senior consultant Max Eber-Ischinger gave us deeper insights into the structures and processes of Lobeco and presented us some  individual projects from the sports industry.
Towards the end of the day, the students were divided into two groups and had the opportunity to work out their own social media strategies and concepts for two different cases – the placement of the sports couple Schweinsteiger and Ivanovíc as well of the brand Paulaner Spezi. After a short but intensive preparation time, the two groups pitched their ideas and received feedback from the experts.
Last but not least, HR Manager Maximilian Contzen explained the recruitment processes of the company to us, with some students expressing their interest in applying.
Throughout the workshop, all participants had the opportunity to ask their questions, which were answered in detail by all employees.
On behalf of MBS and all students, we would like to thank Lobeco GmbH and especially Lorenz, Max and Maximilian for the highly interesting afternoon.