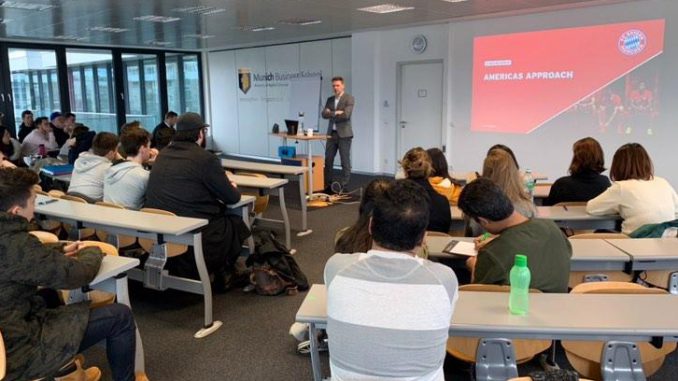 At the beginning of March, Munich Business School welcomed a special guest to campus: Benno Ruwe from FC Bayern München gave students of the Sports Business and Communication (SBC) Master's program and other interested participants insights into FC Bayern München's internationalization strategy. SBC student Jakob von der Wense reports.
---
FC Bayern München and Munich Business School share a couple of similar strategies and values. Both institutions attach particular importance to an international orientation and strategy. That is why the visit of Benno Ruwe, Head of International Relations and Product Development at FC Bayern München, to Munich Business School on Tuesday, March 3rd, attracted a particularly large number of students and alumni. The event took place as part of the course Sports Marketing and Sponsorship with Mike Marqués in the Master program Sports Business and Communication and was also well received beyond the boundaries of the program.
Benno Ruwe as Head of International Relations significantly responsible for the internationalization of FC Bayern München
Benno Ruwe has been working for the German champion for 9 years now. During these years he has played a major role in increasing the club's popularity in the United States. The US sports market, which has always been dominated by the major North American sports, is certainly not an easy location for a German football club. In a vivid presentation, Benno Ruwe explained to the students the individual steps the German club has taken on its way to increasing popularity – from the definition of a new strategic location and the elaboration of a strategic plan to the concrete development on site to targeted marketing and activation measures.
North America and China as strategic international targets
After the North American market was identified as a strategic target a few years ago, the first task was to set up a new office in New York City – an absolute novelty for a club in the German Bundesliga at that time. Despite the initial uncertainty, the step was undoubtedly worthwhile for FC Bayern München. Through a series of activation measures, e.g. cooperation with clubs from the NFL and MLS, team training camps and extensive marketing campaigns, the club's popularity was gradually increased.

Making FC Bayern München's success story known to the world is a particular desire of the sports economist Ruwe. A circumstance that makes FC Bayern München so unique is its business model. Hardly any other club in Europe has managed to operate in such a sustainable and balanced way as FC Bayern. A fact that becomes even more remarkable when one considers that the club has been in the top five of football clubs regarding revenue generation for some time now. Important future aspects are the discovery and use of additional revenue sources as well as further internationalization. For this reason, following its successful expansion into the United States, FC Bayern has been able to take advantage of a number of lessons learned when opening a new office in Shanghai. After a short excursion into the Asian market, Benno Ruwe, in response to requests from some international students, discussed further internationalization strategies of the association towards the end of his presentation.

Benno Ruwe's openness made the lecture and the subsequent question and answer session a great experience for everyone present – on behalf of all participants and the entire MBS, we would like to thank Benno Ruwe for his visit and the interesting insights!
The author is responsible for the content and form of this article.
---


After completing your bachelor's degree, you would like to delve even deeper into the processes of international business administration and specialize in a particular area, such as finance, marketing, or sports business?
Then you will find a broad selection of business master's programs with different focuses at Munich Business School. In all programs, you'll benefit from small classes, lecturers from the business world, and outcome-focussed learning that makes it easy to start your career. See for yourself:

Master's in International Business
Master's in International Business I Finance
Master's in Innovation and Entrepreneurship
Master's in International Marketing and Brand Management
Master's in Sports Business and Communication